This is the update on the Eye-Rejuv procedure I purchased on Living Social at Vavoom. I was able to get in a week early because I stalked the on-line scheduler until there was a cancellation and booked it!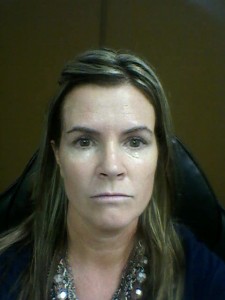 Here I am trying to look like the usual sad "before" pictures but inside I'm really excited!
The staff was great. Lot's of communication, bottled water, Beautiful magazines to look at while the numbing cream took effect – 45 minutes.
It didn't hurt as bad as getting a tattoo but it hurt. If you drew an outline of goggles on my face, that's the area he treated. Afterward, I felt sunburned. (Reverse ski sunburn)  He warned me when I woke up the next morning, the first thing I would see is my swollen cheeks pushing up into my eyes. He wasn't kidding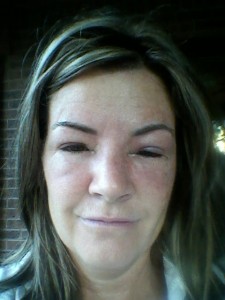 Of course, I optimistically thought I wouldn't be so swollen and had appointments starting at 9:30. I was frantically icing before and between clients all day. Note to self: Next time, do this when you have 3 days off to recover so you don't feel the pressure of not subjecting clients and co-workers to  scary hideousness. Thank heavens I'm an esty and not a middle school teacher! They would have torn me apart.
I'll keep you posted on my progress.
Quotes of the day:
Sunny: "Mom. Look away, I'm trying to eat.
Curt: "Mom, are you OK? Are you going to sue?"
Cindy: "You look better! Your one eye is open!"
Sweet, dear client Lisa: "I wouldn't have even noticed if you hadn't said anything."
I'm oozing from my left cheek, btw….. Luv ya all – C
Here I am on Day 3. It's better but taking antibiotics for the oozing –