Hello Lovely One,
You've probably seen the photo below with a headline such as "Which row do you to sit in?" Or "Enjoy life, sit in the front row" etc… I've always suspected it has been photo shopped because the ladies in the 4th row don't look like they know they're on a rollercoaster.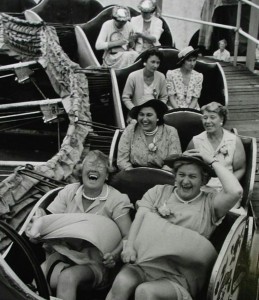 Well, here's the real version of it. NOT a flattering photo of me but the kids have gotten miles of laughs at my expense. Warning: You can't unsee this once you look. Please notice how much everyone else is having.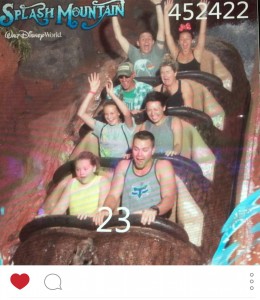 Now on to useful tips and tricks:
My new favorite blog is www.IvankaTrump.com .  She gives style tips and a peak into her interesting life. Here's a photo from her latest post from Dubai.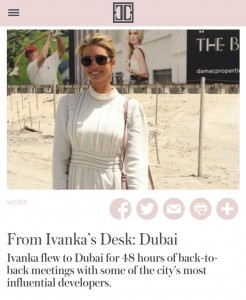 Facial Oils are the rage right now. Sanitas is ahead of it's time and has had facial oils for years. They fit our arid climate and Sanitas was made for Colorado. This is my daily routine: Solar Block sunscreen mixed with a pump of Peptiderm or Vita Rich serum (oils). Sanitas Solar Block sunscreen  with zinc is the only thing I trust on my family. It truly gives a physical sunblock. Sunny has a lot of allergies and she uses it to calm skin rashes and redness.
Here's the least annoying youtube video of how to do brows using ABH brow pomade I could find under 19 minutes. (I had to sit through a lot of "so, I'm like filming this in my mom's bedroom and I'm like gonna show you like how to do brows…" Which makes me think I should make a video at some point in all my spare time…  Anyhoo, the video shows how and what I use on you when you come in for brows in case you were curious!   https://youtu.be?qD-jikaYogl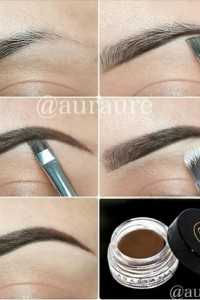 Makeup tip of the blog: I learned through my Jennifer Bradley Makeup training that using a lip liner as a primer on the entire lip, helps lip color last for hours. After the liner, add a color and top with gloss. I like to use a lighter color gloss or pencil in the center of the lips to make them appear fuller. Here's an exaggerated example. I'm also loving bright colors and still love the matte look as well. Lips are an inexpensive way to have some fun.

I'm always looking for ways to get away with wearing boyfriend jeans cuz they're so comfy but kind of caz. This white button down and some pretty accessories dress them right up!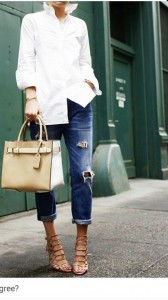 You can see all these pins and more on my Pinterest page find me at www.Pinterest.com/theglamgeek
Do me a favor and tell your friends about me!
Love ya muwahhh!