Hello Beauty,
I've been doing some fun make-up lessons with some amazing women. If you're "makeup challenged" or if you would just like to know if you're "doing it right", I would LOVE LOVE to spend an hour with you, creating a beautiful every-day look that enhances your best features. Sign up for your personal Makeup refresher/lesson today!
I just finished a whirlwind birthday week. (39 and holding in case you're wondering) It started with "The Million Dollar Quartet" play with a BFF on Tuesday night. It was so good to see Elvis again, I've missed him. He kissed my mom in a Las Vegas night club in 1972, doncha know! On Thursday, Boldejarre, the owner of Eminence products from Hungary, visited us at Sunflower Spa. Friday night we had dinner with friends, and the weekend was spent mostly in the bleachers – 4 basketball games and 3 barrel races!
The icing on the cake was The Academy Awards Sunday night.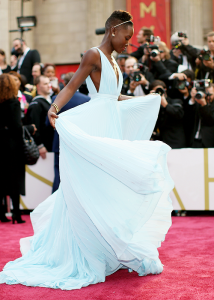 Hands down the best dress of the night was worn by Lupita Nyong'o. It was a beautiful Robin Egg blue and age appropriate for the young "Twelve Years of Slave" star.
I'm a sucker for a beautiful nude dress with both feathers AND jewels. Jenna Tatum looks beautiful next to her equally beautiful husband.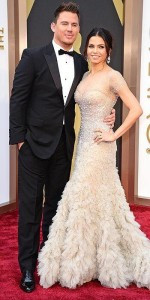 My latest borderline obsession is Palazzo Pants. It all started with this photo in Vogue magazine.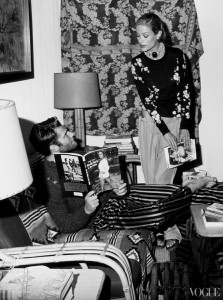 Now they're everywhere.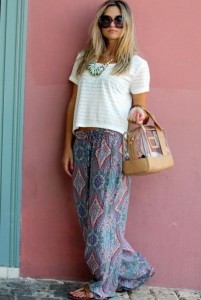 Have you noticed mixed prints are all the rage? Here's 2 of my favorites!
You may have noticed my website is a hot mess right now. I hired a web designer who was awesome but suddenly tore his ACL and is now out of commission. So please bear with me!
Thank you, thank you for another year. You make my life better and I learn more from you than you learn from me.
Love & Beauty
C
they're everywhere. Palazzo Pants. Get some!